It's another happy Friday and we are all together again, sharing and chattering about our favorite things! This week, we are going to be talking to Debbie of
Nannies Adventures in Nannyland
.
1.
Describe your homestead size?
We have one perfectly square acre of ground in west central Montana.2.
Do you raise animals?
Yes What types? We have pigs, goats, chickens, peacocks, dogs, cats, and Kids.
3. How long have you been homesteading? I would say I have been homesteading for 30 years, but realized it in the last 5. What got you started? I spent may childhood on various little plot farms, or a sheep farm or just with parents who loved gardening, raising kids and animals. My husband was raised on a homestead that was actually homesteaded in Western Montana, his great uncle was the first baby boy born in Flathead County after they homestead there in the 1800's and they maintained that section of property until 1970. The property was divided and sold then and again in 1993.
4. What has been your biggest challenge in homesteading? Having the money to do what all our dreams would want us to do. Trying to afford the non gmo seeds, grains and food stuff that we can't grow or raise. Trying to do a lot with the little land one acre really is.
5. Describe a typical day for you Spring, Summer, Fall, Winter ) 1)Spring is for cleaning away the winter, prepping the ground for the garden, birthing baby goats and piglets, milking goats and making soap. 2) Summer is for weeding the garden, fattening up baby goats and piglets for harvest, harvesting huckleberries, gather wood for the winter, camping if some one will care for our animals and enjoying our children and grandchildren. More milking the goat, making soap and cheese. Selling our over stock at the farmers market 3) Fall is for harvesting our garden, harvesting our animals, canning what we can't can the rest of the year, splitting and stacking wood, the girls go back to school, we had thought of home school but we have no social outlets here other than school for the girls socialization, and our little school is a pretty good option. 4) winter is for crocheting, knitting, soap making, more canning, rug making, doing some craft shows, and family time reading through our Bible together, and board games…..
6. What advice do you have for someone wanting to start out? Know your thoughts and what is your end goal. Read, study and get good advise about what your options are to accomplishing your goals. Ask people how, why and what they did? there is no reason to reinvent the wheel or go through the endless cycles of failure that can come from getting to the knowledge through trial and error on your journey to your goals. Yes, that journey can be fun but it can be costly and you may not be able to stay afloat from all the failing that come from lack of knowledge.
Follow Debbie and Nannie's Adventures in Nannyland on Pinterest and Twitter to get to know them more!
Congratulations! Please feel free to grab our button and display it proudly on your blog!


Keep scrolling to enter this week's party!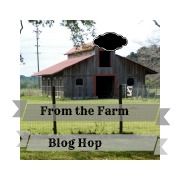 Now, on to this week's party:


1. Link up to three
of your best gardening or homesteading tips, farm-themed posts, recipes, homemaking and
simple/frugal living tips, decorating ideas, DIY projects, craft ideas, thrifty makeovers or repurposed
items, healthy and sustainable living tips, and giveaways.
2. Link back to my blog (using the rel="nofollow" tag), or put the link party button anywhere on your
blog or post to share the love.
3. Make sure to check out some of the other links before leaving.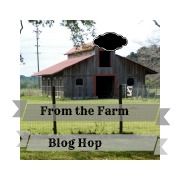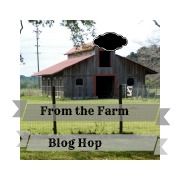 We can't wait to see what you share with us!
Note: Linking up to this party will automatically sign you up for an
invite to next week's party via email. To unsubscribe, please reply to any email you receive and you
will be removed. Linking up also allows us permission to publish one of your photos on our blogs,
Facebook, and/or Pinterest pages.Warmly,Your From the Farm Blog Hop Co-Hosts:
The Homesteading Hippy | Sunny Simple Life | Grassfed Mama | The Mind to Homestead | My Healthy Green
Family | Spring Mountain
Living | Timber Creek Farm |
Happy Days Farm | Better Hens and Gardens | The Granola Mommy